Please stop by our Denver store and we'll be delighted to help you in choosing the best quality foods, treats and supplements for your dogs and cats, keeping them well-rested in our luxurious beds, having them look their sharpest in our stylish collars and harnesses, and amusing them with our unique toys!
We're located in the heart of the Lowry Town Center at 200 Quebec St, Denver CO 80230. See below for store hours or call 303-344-2663 if you have any questions!

February is Dental Month! Did you know that 85% of dogs and cats show signs of oral disease by the age of four? Excessive plaque and tartar buildup may contribute to gingivitis, bad breath, periodontal disease and eventually more serious health issues.
Home dental care and annual vet consultation can minimize the need for costly professional cleaning. To help keep your pet's teeth, breath and gums in tip-top shape, ask about our wide selection of oral care products and dental chews!

Winter is finally here, so protect your pup from the elements! NEW coats, sweaters and fleece have arrived - so shop now before your size is sold out! And don't forget to stock up on Safe Paws de-icer and Dirty Dog doormats!

Plagued by food allergies? Ask us about raw diets, novel proteins, going grain-free and other options that might help solve your dietary blues.
Is your puppy destroying your shoes or kid's toys? Bring home naturally-harvested elk and moose antlers (great for hard chewers), roasted bison and ostrich bones, raw bison and beef marrow bones and interactive treat puzzles. For something really different, try new goat horns, water buffalo horns and Ruff Roots. We also have feather chasers and catnip toys galore for the kitties!
After a fun romp at the reservoir or play date at the dog park, get your pup squeaky clean again! Give them a bath in our self-service dog wash, complete with our signature Blueberry Facial - or make an appointment to have our experienced staff do all the work for you!

Go Foraging!

---
Check out our new Snuffle Mat! Drop kibble or treats onto the mat and let your dog hunt for dinner - it's terrific sensory and brain stimulation, and great for dogs that gulp their food too quickly!

Your Headquarters For: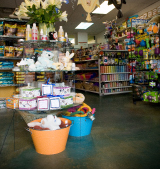 M-F 10a-7p • Sa 9a-6p • Su 11a-5p • Dog baths must be completed 30 min. before store closes