Please stop by our Denver store and we'll be delighted to help you in choosing the best quality foods, treats and supplements for your dogs and cats, keeping them well-rested in our luxurious beds, having them look their sharpest in our stylish collars and harnesses, and amusing them with our unique toys!
We're located in the heart of the Lowry Town Center at 200 Quebec St, Denver CO 80230. See below for store hours or call 303-344-2663 if you have any questions! We are NOT affiliated with chewy dot com.
Picky eater? Sensitive tummy? Ask us about raw diets, gently cooked entrees, novel proteins, digestive supplements and other options that might help solve your dietary blues.
Take good care of your furry pals as the temperature drops! Make sure they have a warm, water repellent coat. Dog boots/shoes are a great option for better traction on icy sidewalks and to keep toes from freezing. And don't forget the Safe Paws ice melt to prevent you and your pup from slipping down the steps and driveway!
Is your puppy destroying your shoes or kid's toys? Bring home naturally-harvested elk and moose antlers (great for hard chewers), roasted bison and beef bones, raw bison and beef marrow bones and interactive treat puzzles. For something really different, try goat or water buffalo horns. We also have feather chasers and catnip toys galore for the kitties!
After a fun romp at the reservoir or play date at the dog park, get your pup squeaky clean again! Give them a bath in our self-service dog wash, complete with our signature Blueberry Facial - or make an appointment to have our experienced staff do all the work for you! We also offer full grooming services including breed-specific cuts, but we're not accepting new grooming clients at the moment as our wait list is quite long. Please check back in a few months to see if our schedule has opened up.
Dog wash will be CLOSED January 28-29 for renovation. Sorry for any inconvenience!

Romp, RELAX, repeat!
Check out our comfy beds, crate mats, kitty cuddlers and more!
Your Headquarters For: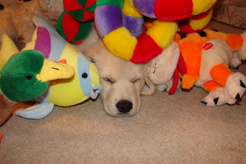 M-F 10a-7p • Sa 9a-6p • Su 11a-5p • Dog baths must be completed 30 min. before store closes • Dog wash CLOSED Jan 28-29